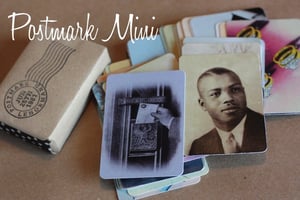 $

18.00
This is a PREORDER.
PLEASE READ THIS ENTIRE LISTING BEFORE YOU ORDER.
Cards will ship the 2nd week of May, just in time for Sibyl School Classes to begin!
The deck consists of 40 cards -- the 36 standard Lenormand cards, an alternate Man and Woman card, a wild card (Happy Squirrel) and a Cat (alternate Dog) card. There is NO title card with this version of the Postmark (the Letter card serves as the title card). The backs are a pale blue.
The mini size is approximately 2.5 inches tall by 1.75 inches wide.
The mini is different from the Bridge size in that they DO NOT have the card number, name or playing card correspondence printed on the card. The deck comes in a brown paper wrapper. It is truly wee and lovely!