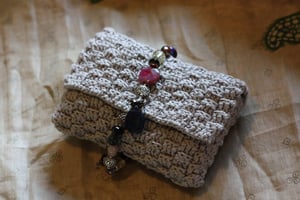 $

35.00
Let me make you a beautiful pouch for your treasured Lenormand deck! I'm happy to accommodate poker or bridge-sized decks with this order. This original pattern has a cushy basket-weave texture.
Let me know your favorite color and I'll find a pretty yarn to suit (Paton's Grace is my go-to, but if I can't find a color you like, I'll substitute another fine mercerized cotton). The pouches are closed with a clasp and a beaded chord.
I'm including a random glass-tile necklace with each Lenormand pouch.
See more pictures of the bags and a picture of the necklaces I'm including here: http://sassysibyl.com/tarot-lenormand-bags/
These bags are made to order. Please expect shipment in 1-2 weeks.
Lula's ears thank you for your kindness.